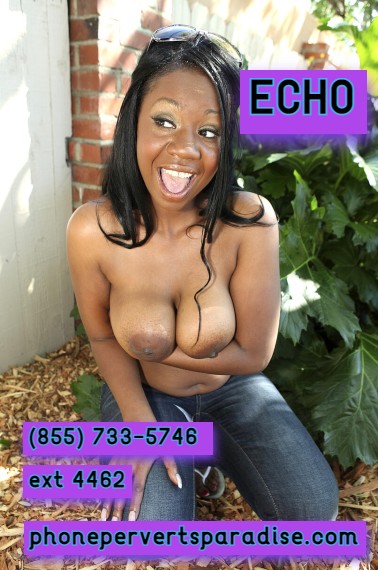 A kinky phone sex slut still has to get fucked regularly. And for a fuck toy like me, nothing makes me more wet than getting railed by a stranger in public. I don't even remember the last guy's name. But I remember his massive cock. I saw him in a park and flashed my black knockers and told him to follow me. When I got him away I took them out completely. I smothered his face with my big tits and grabbed at his fat cock. He was already hard for me.
"Get on your knees bitch!" He didn't have to tell me twice. His cock was already stretching out my throat. He grabbed the back of my head and made sure that every inch of his massive meatstick disappeared. I choked and gagged on his dick like the cum guzzler I am. I couldn't fucking breathe, all I could do was let him. He finally pulled his cock out of my sloppy mouth and shoved his filthy balls in there instead. His slimy dick swiped across my forehead while my tongue played with his sack. My pussy was aching to get the same attention. I asked him to use my pussy and tried to stand up. "Did I say you could stand up, slut?" He rammed his dick back down my throat and fucked it even harder. I slid my hand in my jeans instead. I played with my needy cunt at the same speed as him. My panties were already as sloppy as my face. I didn't need much and I squirted all over my fingers.
He stopped with his meat buried in my whore mouth and shot his load straight into my stomach. I made sure to swallow all of it before he pulled back out. I was still catching my breath when he zipped his pants back up and left.