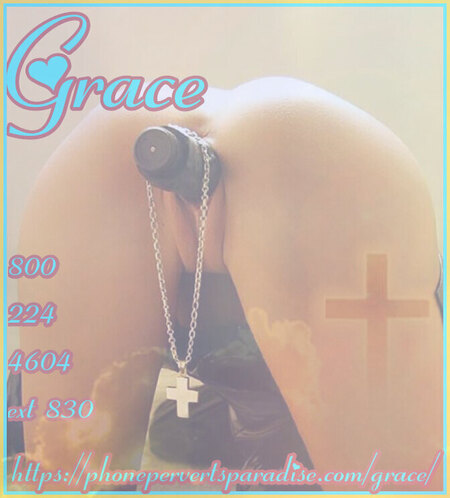 I have to admit that I am no angel. My parents don't pay any attention but my Grandmother came for a visit and told me that I needed saving and took me straight to church.
I thought I would be bored beyond belief but the priest was pretty hot!
We sat right in the front row and I noticed he could not keep his eyes off me. It was turning me on that I had so much power over him.
I spread my legs and pulled my skirt up just to the edge of my pretty little pussy. My grandmother looked at me in disgust!
The priest stuttered a bit when I pulled my black silky panties to the side, exposing my moist clit.
He rushed behind the podium to hide his growing rod.
I gave him my best innocent grin as I slowly slide my finger deep inside honey pot!
He looked as if he was going to jerk off in front of the entire congregation!
Just as the service was coming to an end, I pulled out my giant black vibrator that I keep in my purse.
I gave it a lick and watched him shake as he watched me get up and walk away.
I knew he was going to the privacy of his sanctuary once the congregation cleared so that is exactly where I headed!
I pulled up my skirt and bent over his desk and just as he walked in, I slammed that penetrating vibrator in my sloppy wet cunt!
I watched as he dropped the stack of bibles on the floor and grabbed his fat cock!
The harder I fucked myself, the harder he yanked his meat.
My sweet cream blast out of my stretched hole like it was coming from the depths of hell!
Just then he dropped to his knees and screamed hail Marys and something in Latin as he unleashed years of pent up cock serum!
I felt like I had done my good deed for the day and smiled as I went to meet my grandmother.
She said that she hoped he had given me a good talking to about the error of my ways! Oh, yes dear grandmother! Oh yes!