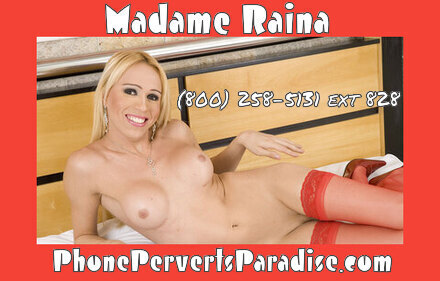 I'm always on the hunt for more sissy slaves to train. They come in, all smiles and sunshine. Why? Because Madame Raina is truly a sight to see. I have perfect tits, beautiful cock sucking lips, and a killer body. These little boys think they're going to have it easy.
That is, until I introduce them to my huge shemale cock. Their eyes always go so wide, and they shiver at the anticipation; they know they'll be on their knees sucking my huge girl dick. I'll face fuck every one of them, and make them prove their worth.
When I'm bored of that, they can massage and lick my big girl balls until I'm just tired of their groveling. I force them to bend over, and they take my entire tranny prick in their pussies. They used to have assholes, until I made them gaping, cock hungry fuck holes. Now these sissy bitches have ass-pussies that are exclusively for my use.
I'm not sensual and sweet. I'm big, and mean, and I will train each and every slutty sissy that comes my way to be my personal fuck toy. They'll keep my shemale cock throbbing and rock hard, they'll keep my nails painted, my hair done, my skin moisturized, and my balls empty. There's nothing they won't do for me, because I give them kisses and treat those sissy femboys right.
You know why you're here, so what are you waiting for? Pick up the phone, and start the greatest thing that's ever happened to you; me.