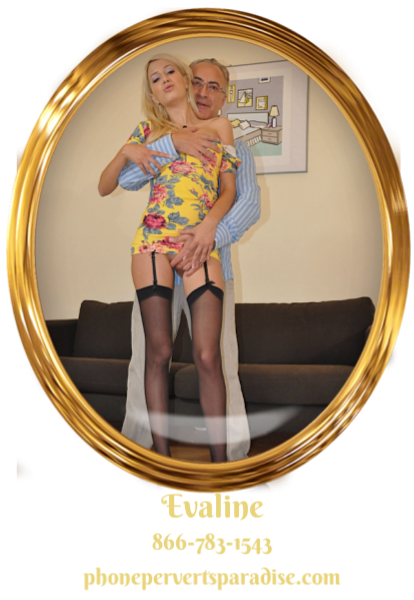 I am, by nature a very nice person.  I always have been, I can't help it.  I'm like a girl scout with a sex addiction if you will.  My cousin owns a cleaning business and she always offers half price for those over a certain age.  She has a soft spot for older people too, mine happen to be for sexual reasons, but hers is because she thinks it is the right thing to do.  Everyone deserves a clean home is what she always says.
She has a lot of older single divorced men on her clientele list.  That is why I help her actually.  Once in a while one of these men will make my pussy so god damned wet that I have to go out to the van and play with my cunt until I cum.  Otherwise I can't concentrate on the cleaning.  One guy always flirts with me and my cousin thinks it is so cute.  I think it is more than cute!  He is pretty damn good looking.
I decided that I was going to give him a free cleaning session if he wanted it.  I showed up in a very short dress, stockings, high heels, you know, the basic cleaning lady get up and knocked on his door.  He was very surprised to see me.  I told him that I thought that perhaps his house could use a little tune up since I knew he just had family there for Thanksgiving.  He said he didn't have enough money, I told him he could pay me in other ways.
He had no clue what I was talking about. lol I started to clean.  I could tell he was watching me, every time I would bend over I knew my dress was riding up over my ass. I adjusted my stocking a few times.  I do have to say though, trying to clean in high heels is awful!  It wasn't long before he figured out what I was really there for.
He came behind me and kissed the back of my neck.  I turned around so that we could really get into the kiss.  He took his time undressing me, he even asked me if it was okay.  Of course it was okay, that is what I was there for. I went to my knees and took his hardening cock into my mouth.  He was looking down at me and stroking my face.  I wanted to make sure I took him as deeply as I could into my mouth.  I wanted to taste his cum, but he wanted to taste me instead.  He lead me back to his bedroom, laid me down, pressed his tongue against my clit and brought me almost to orgasm then stopped.
He crawled between my legs and fucked me for a pretty long time.  I was very impressed with how long he lasted.  I stayed with him most of the day.  We had a great time, and I told him that I would come back once a week if he wanted and we can see where it goes from there.  However, he would have to understand that I love sex and I love sex with a lot of different people.  He  told me that that would be fine, he wouldn't stop me from having fun.  I think I am going to really love this arrangement.