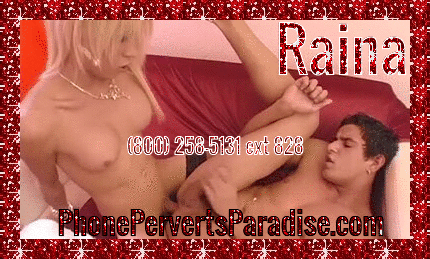 When he offered me his number at the bar, I sauntered away with a grin. My shemale surprise was getting rock hard, tucked inside my pretty panties as I led this pathetic simp the bathroom. "What do you want me to do to you, mija?" He asked me, groping at my pert pretty tiddies. "Come mi culo, come mi mariposa." I ordered him sweetly; eat my ass, eat my butterfly I told him.
He dropped to his knees, eager to obey. In my blood red lace thong, he found my ten inch she-sausage. His mouth fell open, chin dropping to the floor. I took my opportunity, gripping him by the back of the head and slamming my pocket monster right down his fucking throat.
He tried to protest, but it was no use. Madame Raina gets whatever the fuck she wants.
I was letting him slurp up my ten inch ass plug when another man walked in. Well, don't you know he walked right up to my little cocksucker, pulled off his jeans, and slid his huge BBC right into my little submissive's shithole? We spit roasted that little fucker. In the end, he came all over the floor when that BBC hit his prostate. I came down his throat, he got his ass filled, and I went home with that big black python to have a little prostate massage of my own.