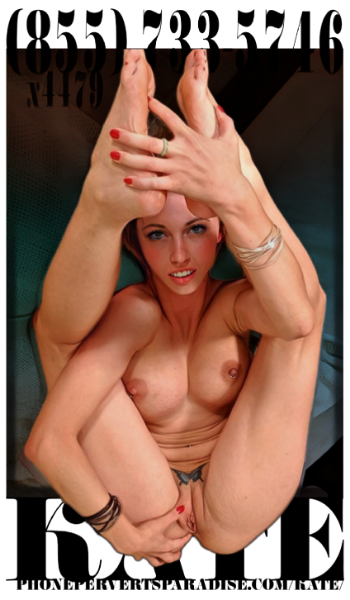 My favorite phone sex games to play are the ones that leave me laying in the most fucked up positions, breathless and full of cum.  I'm super limber and absolutely love to have my stretchy limits tested when I'm being banged out!  Go ahead and try me, I bet I can get into whatever sexy shape you want to screw me in.
One of my favorites is the bridge.  I'll arch myself up and bend over backwards so you can do whatever you want to me.  Rub your hands all over my body while I'm holding myself up, I can't do anything about it unless I want to fall down.  My pussy will be in a prime position for you to eat it out, give it a lick and a good fingering for me.  It feels so good!
Shove my legs back behind my head and fuck me as hard as you can!  When my hot hole is hanging off of the couch with nothing to block you from drilling as deep as you want, you should be able to really knock something loose in there if you bang me out hard enough.  Stand me up on one leg and sling the other one over one of your shoulders then jam your junk in my cunt as much as you want.  Feeling a massive member ramming in and out of me in that upright position is so amazing it makes my eyes roll back in my head!
Seriously, think of an actual position for really good fucking and I guarantee I can get into it.  Hell you can shove me into a box with a hole cut into it so only my ass sticks out and you can have some weird hot phonesex fun like that if you want.  I like being told what to do, just let me know how you want me.