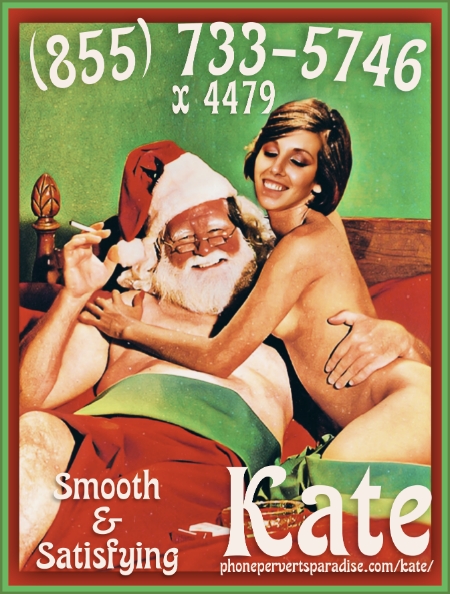 After a long, hard night of going house to house and delivering presents to everyone, there's nothing better to make a magical man relax than a smooth and satisfying bald shaved pussy.  My warm, wet snatch is so soft and velvety that it's sure to ease even the deepest chilly edge my lover might have from being out in the cold for hours and hours.
How amazing must a man be to give gifts to everyone, friends, family and strangers alike?  Such selfless acts of kindness and good cheer deserve a special type of treatment, the kind that only a cum filled companion could provide.  I'll have a fire going and the bed nice and cozy, all ready for him to climb inside with me so we can snuggle while I help him get warm.  I'll kiss him gently while he tells me all about his night of giving and being just an all around good guy.  I'm going to massage his aching muscles and make sure he's not so sore, but carrying around all of those things and having to get in and out of everyone's house has to take it out of a fella.
Once he's I have him so relaxed that he just might drift off to sleep, I'll start sucking his ample cock and jerking him off nice and slowly and edge him out for a while.  A perfectly pressured prostate massage will milk out a bunch of semen and make his impending eruption of spunk really thick and juicy, just like I like it.  I'll push him into my slick and slimy tight shaved pussy and ride him super slowly so he doesn't have to exert any more energy than needed to shoot that chunky, curd filled Christmas load deep inside of my loving cunt.
Good men deserve to be shown respect, love and compassion and I can't think of any better man than one who gives all of himself and expects nothing in return.  Showing him my appreciation with my perfect pussy is the least I can do, he's just so wonderful and full of whimsy and glee.  We're all so lucky that there are men in the world who give of themselves selflessly, they're kind of few and far between.  I'm going to treat every last one of them like the golden nuggets of nice that they are and make sure they're all completely satisfied.