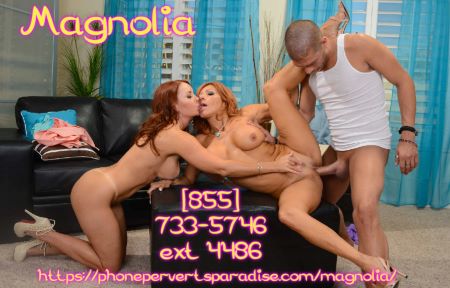 With the holidays right around the corner, and being left to my own devices, I decided now would be the perfect time to treat myself to my ultimate Fantasy phone sex. I love fucking and sucking cock, but getting a nice pretty tight pink cunt as well? Well, let's just say I'm so down! I'm on my knees my best friend beside me as we are servicing your rock-hard cock.
I wrap my pretty little sweet southern mouth around the tip while she sucks your heavy balls. We are groping one another, my finger sliding up and down her tight, wet, slit before ramming them deep in her fucking cunt. I moan as she twists my nipple slightly and my pussy starts to drip. I can tell you like what your see because your cock throbs in my throat causing me to gag. you feel my whore throat squeeze your cock and I force more of that cock deeper in my fucking face. That is all I was made for baby force fuck me like the worthless little cock sucker I am!
You grab a handful of my hair, using it as a handle as you force my head up and down on that massive rod. You hold my head down as I chock and try to gasp for air; tears streaming down my face. You flip me around and Sarah push her ass right up next to mine, so we have our asses in the air presenting them to you like the dirty little pigs we are.
You take that heavy thick dick and start smacking it right on our pretty round ass' and I'm dripping in anticipation. Sarah and I are making out when I hear a muffled cry from her and she was pushed forward as your cock ripped through her ass without warning. Yeah baby, fuck that whore's pretty, tight, little shitter! That is all she was made for; to be your good little cock sleeve! Force your cock deeper in her than you though possible! Make that whore your cock milker! After all we are the gift that keeps giving, and I want you to give use that massive young dick and every drop of that cum all night long!